Blind Spots – The Book
Today I wanted to give you an in-depth look into unconscious bias thru my book "Blind Spots" by giving you a copy.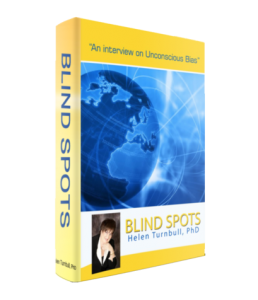 Blind Spots is an interview-style manuscript where I discuss the road map to success and how it must include consideration of diversity and inclusion challenges faced by each individual.
Some of the subjects I cover include:
What diversity has to do with personal and professional success
Doing your own work on diversity
The "diversity paradox"
How competence, diversity and inclusion have made a major contribution to becoming successful
The specific diversity challenges that need to be address to be successful in business
What internalized oppression is and why it matters
I also share examples of incompetence around diversity and inclusion and how it has impeded success
AND MORE!
Here is an excerpt:
You predispose yourself toward success or failure based on your attitude. The stories you tell yourself will strongly influence the outcome. If you believe someone does not like you, then you are much more likely to draw negative energy to yourself to confirm that belief each time you interact with that person.  It is equally true that if you believe your social identity group (e.g. being a woman), is also a disadvantage, then that will hamper your success prospects.
To get your FREE Digital Copy of Blind Spots, simply leave your name and email below:
[contact-form to='Heidi@redheadmarketinginc.com, drhelenturnbull@gmail.com' subject='Send Me a Copy of Blind Spots'][contact-field label='Name' type='name' required='1'/][contact-field label='Email' type='email' required='1'/][/contact-form]